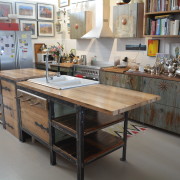 "We are loving it – everything is now in its place and we can't imagine it hasn't always been here."
The picture of the kitchen to the left is Our Kitchen, and we could not be more delighted about the result – we are loving it and everyone who comes to see it is as envious as all get out! Barb and Con were wonderful to work with, unfazed that we wanted to keep a 19th Century Czech cupboard and use its features as much as possible. The doors were used, the sides and other wood all gave to the new kitchen. It was the cupboard that kept on giving and we now have the original painted wood doors, the internal wooden hanging hooks, shelving and woodwork detail all incorporated. It really got a new lease of life. Barb and Con were wonderful to work with, sensible and workable solutions that enhanced the outcome and our experience of an addition full of character, beauty and utility.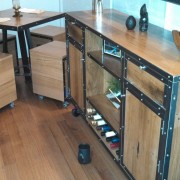 "Recycled Lane is EXACTLY what small business should be all about!"
The end-to-end experience from design right through to delivery was absolutely second to none. Con and Barbara work with you every step of the way to make sure that you end up with the pieces that best suit your needs. I went into Recycled Lane wanting a customised desk and have basically ended up furnishing my entire home with their products— desk, tables, storage stools, storage boxes and cabinets! I still look at my pieces to this day and think, "I love them, they're perfect and totally the right decision!" You will not be disappointed with the business ethos, quality of material and workmanship, the attention to detail and exceptional service provided by Recycled Lane. "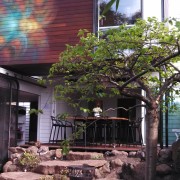 Our Tables…Pieces of Art In Their Own Right
Angela and I were renovating our house during Oct 2015 – Oct 2016 and were looking for bespoke dining tables at bar bench height to complement our outdoor decking area. Recycled Lane appealed to us because of their creative approach to making wonderful home furniture from recycled and reclaimed material, being local to the area and a small business with individuals that we could speak to face to face rather than a furniture store. Both Con & Barbara were extremely patient with our initial enquiry and with their help, suggestions and feedback.  Angela and I were able to really hone our ideas and pass them on to Con and Barbara. We were delayed during the build phase which probably impacted their work, but both Con & Barbara were so accommodating and worked with the delay to help us have our bespoke dining tables ready on time for our house-warming. Since then, the dining tables have been the canvas for some spectacular dinners and parties.
The quality of the workmanship, the design of the tables and the sourced material have all played a huge part in making our tables not just pieces of furniture but a true show-stopper as pieces of art in their own right. Everything we asked for, Con & Barbara delivered upon and then some more! We truly appreciate the hard work and creative energy and will always have a story to share with people about our dining tables made by Recycled Lane.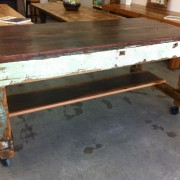 We love the way they work together to give new life to old things in a unique and beautiful way
We first met Con and Barbara when we discovered the amazing TAA bench, lovingly restored, on their website. After emailing Barbara and making sure it was still available we decided the only thing to do was jump in the car and drive 5 hours to Melbourne. We weren't disappointed. It now takes pride of place in our new home. Like much of Con's work it is a mix of old and new, rustic and finished and something truly unique. Con is a true craftsman, who brings many skills to the table and his metal working talents are what brought about our next purchase from Con and Barbara. Beautiful old theatre lights which, in keeping with our brief, Con designed fabulous contemporary stands to compliment these vintage pieces. Again, a work of art! And then there are all those conversations we have had with them about how to create the perfect dining table to suit our needs…..We love the way that between them, they work to give new life to old things in a unique and beautiful way. We could not be happier with the service or the products we have received from them.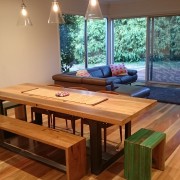 "The table and seats are at the heart of our home and we could not be more pleased with the outcome. "
Con and Barbara of Recycled Lane have been fantastic to deal with. Con obviously loves his craft and has been excellent at suggesting designs and sourcing the most beautiful timber. We especially love the reclaimed MCG seating and the factory reclaimed table timbers. The table and seats are at the heart of our home and we could not be more pleased with the outcome.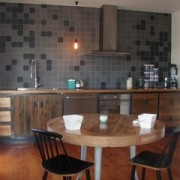 "THANK YOU for the Amazing job you have done".
"First of all I'd like to THANK YOU for the Amazing job you have done with my Kitchen bench, Bathroom workbench vanity and gorgeous kitchen table. I was after friendly crew with crafty skills when I was looking for someone to produce me these important pieces for my home and I definitely got that and much more when I walked into your store!
Couldn't thank you enough for making my experience a pleasant one, you are beautiful people & extremely generous, if I we're to do it all again I would definitely not change a thing. Compliments I've had from guests has been absolutely crazy!! Cheers for the Bulletproof pieces of furniture, LOVE EM!!"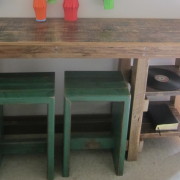 "You won't find this sort of thing in a department store".
"We recently bought a workbench style breakfast bar from Con and Barbara at Recycled Lane, had two stools made to go with it and are now intending to have a dining table and benches made. The whole process has been great, from initial phone call and emails, to discussing in person the use and/or suitability of different timbers for the look we wanted through to quoting, payment options and finally shipping! Con and Barbara are super flexible and go to great lengths to ensure they understand and produce exactly what you want. I love the variety of timbers to choose from and also the colours, not only in the timber itself but in salvaged materials such as the fantastic green of the Ponsford Stand timber they have available, basketball court flooring etc. You won't find this sort of thing in a department store.
When our breakfast bar and stools arrived we were so happy with the look and the workmanship – they are beautifully made, sturdy and we especially love the weight of each piece (no cheap particle board and veneer here!). We have had so many positive comments on them as well. I wouldn't hesitate in recommending Recycled Lane, why buy from a chain furniture store when you can have something made to order that is totally original, looks fantastic and is made from recycled/sustainable materials? We love Recycled Lane and are so happy to finally have found the style we love. Thanks so much to you Con and Barbara."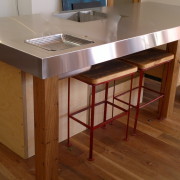 "The quality is impeccable and always on schedule, meticulous to the last detail".
"Looking for someone that could build a custom made kitchen island bench we found Recycled Lane by accident over 4 years ago. We were immediately impressed by Con and Barbara's friendly service and can do attitude.
Since that first encounter and project, Con and Barbara have completed several pieces of bespoke custom furniture for us each one unique, very practicable and timeless. The quality is impeccable and always on schedule, meticulous to the last detail.
Con with his great skills and knowledge has always been very helpful in the the design of all the projects/pieces and always open to new ideas. We really appreciate the amount of time he spends with us throughout each project and value being able to drop in any time to see the progress,
For each of the items Con and Barbara have completed for us we are truly grateful – Thank You"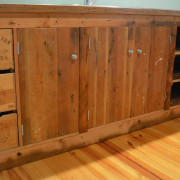 "We enjoyed working with you…"
"Thank you so much for the beautiful benches you crafted for us. Thank you also for the time you took to visit and plan these pieces to suit our needs and our kitchen so well.  We enjoyed working with you and appreciate your keeping us updated on a project that was on time and on budget. When we saw the finished product at the viewing before final finishing, we thought it was beautiful, and by the time it was installed it really shone. We are happy to supply a testimonial to your excellent work and ethos  –  Thank you again".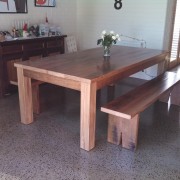 "Delivered on time and we are very happy".
"We would highly recommend Barbara and Con. Con was very patient as we described what sort of table we wanted. He presented plenty of options including suggesting a species of timber that we had not originally considered, but subsequently decided to use. The table was completed and delivered on time and we are very happy with the finished table and look forward to many happy family occasions around it."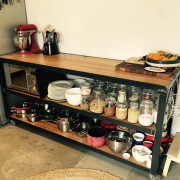 "We Love It!"
We love our Kitchen Island & Storage Bench and use it so regularly, hard to imagine how we lived without it – We LOVE it!!!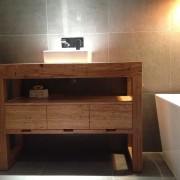 "We are just thrilled with the quality of craftsmanship and finish".
"We can't thank both Yourself and Con enough for the beautiful job you've done. The vanity is just how we imagined it. We are just thrilled with the quality of craftsmanship and finish. After looking everywhere for a suitable vanity without any luck, we are so pleased that we chose Recycled Lane to produce such an amazing piece of furniture from our design. We really feel that we have got true value for money, which is hard to come by these days!"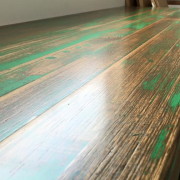 "Beyond our expectations".
"The service and workmanship from the team at Recycled Lane are second to none. These people are true artists, and it is a true pleasure to find people that are so passionate about their craft.
We asked Barbara and Con to custom make our kitchen benchtops out of the reclaimed timber they had from the old MCG Ponsford Stand seating. They helped us through every step and were incredibly helpful and patient with our ongoing renovation plans. The finished product is beyond our expectations, we are supremely happy with our benchtops, they are stunning. These guys are the best".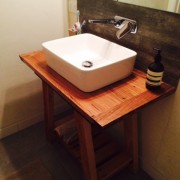 "Our resulting table was stunning and is now a centre piece".
"We used Recycled Lane to build us a vanity table for our new en-suite. They kept us informed of it's progress and had the item ready when they said they would. Very pleasant to deal with and asked us questions we didn't think to ask. Our resulting table was stunning and is now a centre piece. Shame it's hidden in the en-suite and not on full show."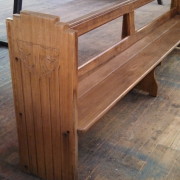 "Thank you for the beautiful work you guys have done".
"Barbara & Con, thank you for the beautiful work you guys have done on the shelves and pew! We have had two gatherings here and the pew has been used and admired as well as by us most days!  We are very happy to have had this work done and I am recommending you all over Melbourne if that's ok?!  Many ask about the stools also".
Thank you again.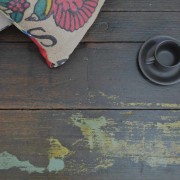 "Two very happy customers".
"Can't thank Recycled Lane enough for all their help. We live in Sydney but they have gone above and beyond to make sure we received our products – we absolutely LOVE them! Two very happy customers".